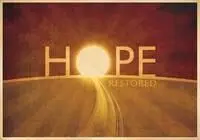 Today you are one step closer to restoring hope to your relationships , your dreams and your life !

As a solution-focused pastoral counselor, my goal is to help restore hope to your most important relationships, help you uncover your God given talents and abilities and help you lead a life that is worth celebrating. While we can't change difficult situations of the past, we can work together to better understand and overcome how those difficulties may be contributing to the current challenges in your life. By applying foundational life and relationship principles, we will unearth the truth of negative long-standing behavior patterns or beliefs that may be holding you back.
If you're looking for extra support and guidance through a challenging relationship/situation or you're just ready to move in a new direction in your life, I look forward to working with you to help restore your most fundamental relationships, see what new dreams are possible and live your life with renewed hope and purpose!!

Please call me for an individual or couples consultation today at 562-989-HOPE (4673).


Restored Hope is a 501c3, non-profit corporation, dedicated to educating and advancing the need
we all have for happier and healthier relationships (friendships, marriage and family). Happier and
healthier relationships begin with a happier healthier you! Growing can be difficult at times, but difficult
relationships can also help us grow. Call us, you will be glad you did.